Sketch Map Generator
Sketch Map Generator is a Sketch plugin that allows you to fill a layer with a map generated from a given location using Google Maps and Mapbox. Design beautiful map interfaces in no time.
Sketch Map Generator is a plugin for Sketch that allows you to design beautiful map interfaces in less time, it's powered by Google Maps and Mapbox. This plugin prevents you from having to take screenshots, move things around, copy, cut, paste and all those boring tasks that take too much time.
With Sketch Map Generator you only enter the location you want and the plugin does the rest, reducing time from minutes or even hours to a few seconds. Here's a preview of how it works:
List of Features
Generate maps with Google Maps
Generate maps with Mapbox
If you use Mapbox you can use your own custom styles!
Map preview! You can see a live preview before generating a map
You can move the map preview, drag a pin to pick a location and change the zoom with no effort
Snazzy styles support
Dark mode support
How It Works?
First you have to generate your Google API Key or your Mapbox tokens, you can read the following guides to learn how to get them for each service:
Once you have your API Key or your tokens you have to save them in the plugin settings:
Plugins > Sketch Map Generator > Open Map Generator Settings...
Now you're ready to generate a beautiful map! To do that you must create a shape and select it or just select one of the ones you might already have.
After that you have to run the plugin to enter your map settings:
For Google Maps
Plugins > Sketch Map Generator > Generate a Map Using Google Maps... or press Shift+Cmd+M
For Mapbox
Plugins > Sketch Map Generator > Generate a Map Using Mapbox... or press Shift+Cmd+B
You can adjust the following settings in the plugin's window:
Location
Zoom level
Map type (if you use Mapbox your own styles will be listed too)
Snazzy styles (only available for Google Maps)
Finally press the button to generate the map and voila! Your shape will be filled with a beautiful map.
You can also generate with a single command the last map you created:
Plugins > Sketch Map Generator > Generate Previous Map or press Cmd + Shift + P
That's it! ✨
Installation
Manual
Download the latest release of the plugin and unzip the file
Double click on Map Generator.sketchplugin and you're ready to go
Install with Sketch Runner
Open Sketch Runner and run the Install command, then search for Map Generator and press the Get button.
You can also download the plugin at the following link: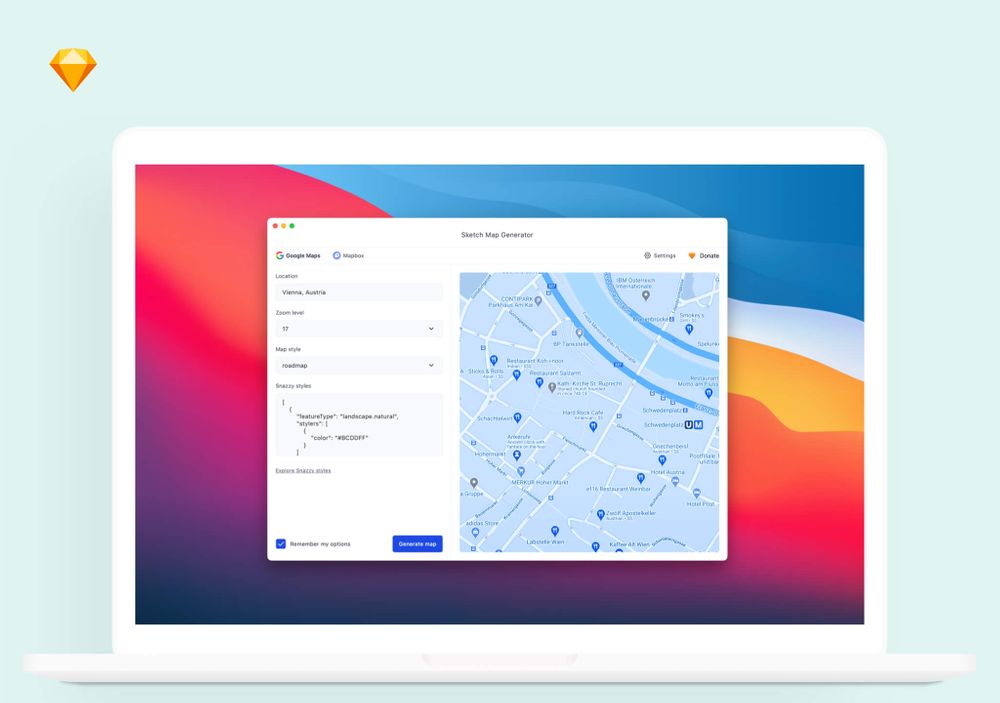 If you have any questions or troubles with this plugin, please feel free to open an issue here.
FAQ
What versions of Sketch are supported?
The plugin is compatible with Sketch 53+
Does this plugin need an API Key or API token?
Yes. You need to provide an API Key for Google Maps and you also need to provide a public and a secret token for Mapbox.
Do I have to pay to use this plugin?
No. Although a credit card is required to get a Google Maps API key. Don't worry, it will be almost impossible for you to have to pay a single penny.
Does this plugin support retina?
Yes.
There are some size limitations?
Yes. Currently Google Maps images can be returned in any size up to 640 x 640 px. Currently Mapbox images can be returned in any size up to 1280 x 1280 px.
You can find more information about the plugin at the link bellow:
---
Another Useful Sketch Plugin